Thanks, I suspect it will be pretty quick. The more I work on it the more I see the bike's big brother the XS11 in its's DNA. This really looks like it was built on the lessons learned from the XS11.
FJ1200 UPDATE - IT RUNS!! Beautifully!
Looks like I have a winner here!
I am always very afraid when I purchase a
NON-RUNNER
. I could have ended up with a bike with a blown motor. This one seemed to have been parked due to the PO running into something which resulted in the fork damage, missing/smashed fender etc. But there could have been major issues that were not so clearly evident.
All indications were that the long period of inactivity led to carb issues which the PO was trying to fix but he was ill-equipped to resolve them.
But one really never knows what else is going to be wrong with the bike other than the typical totally neglected regular maintenance?
I got all the carbs put back together and installed, mostly like putting together a jig-saw puzzle without the photo of the finished product.
The PO removed the carbs, I got them in a box!
The Clymer manual was very useful but doesn't cover every nut & bolt or every cable & tie.
Fortunately, I was able to figure it out.
Before starting, I decided to better have a look at the air filter just to make sure it actually had one..... FOUND THIS: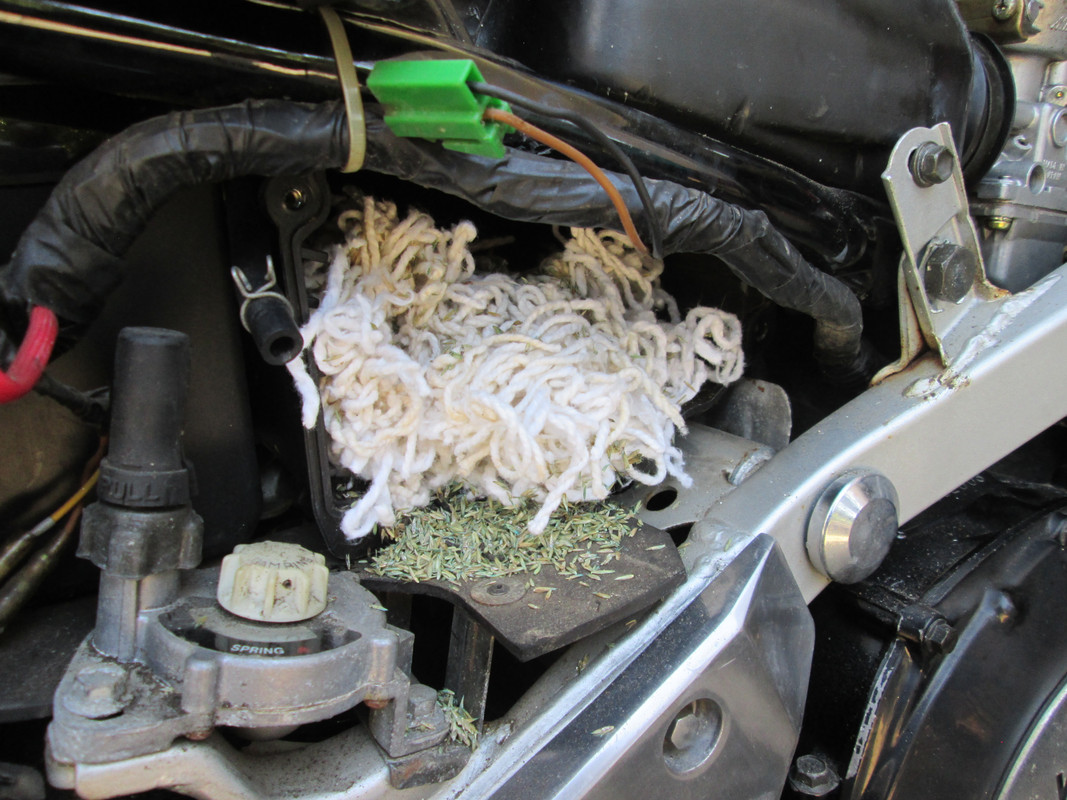 Seems a field mouse or other small critter was using the air box as a nest. Looks like the remains of a mop head and he had a bunch of grass seed piled up in here too! Guess he was planning on a long cold winter....
VERY GLAD I LOOKED FIRST!
But, the machine runs extremely well. The brakes are all crap so that's the next project. I can take a breather and relax a bit knowing the motor sounds
ABSOLUTELY EXCELLENT
.
There was no point in buying brake parts for a bike that might have had a bad motor....
Here he sits idling beautiful with his younger brother my FZR1000 (my other very expensive bike also a $600 purchase).
The FJ1200 still needs a front fender and a lower fairing and a lot of routine maintenance items including caliper rebuilds and new lines....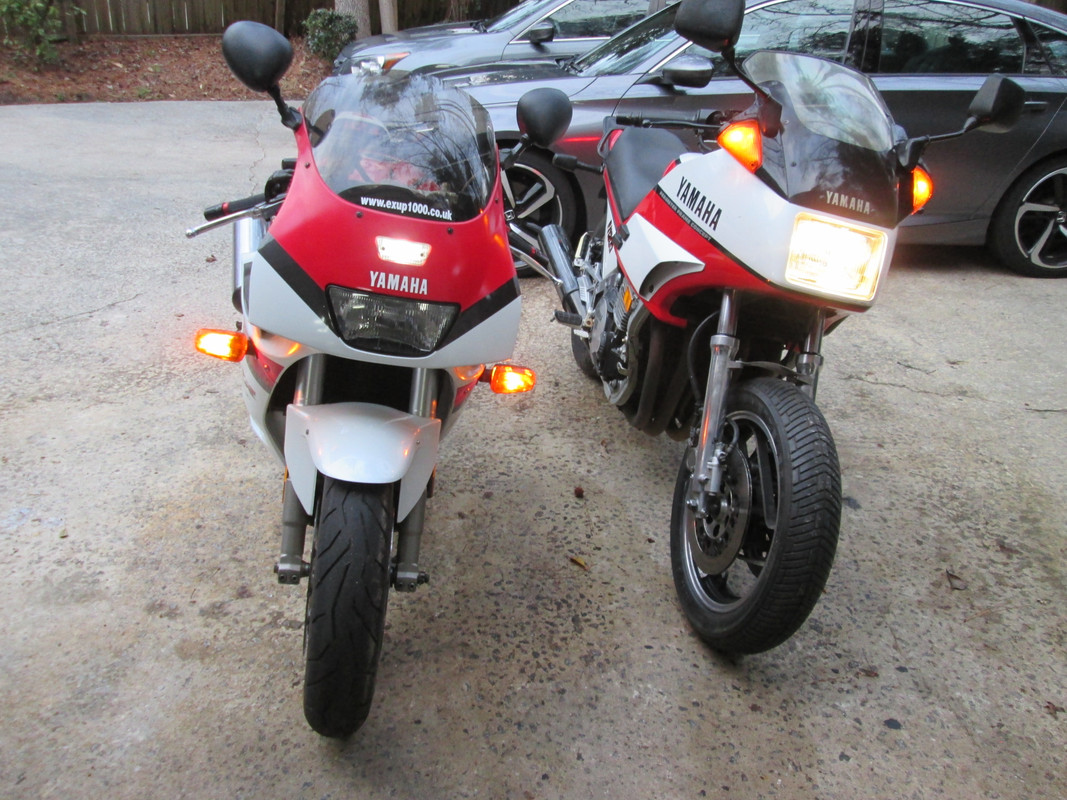 I plan to slow down a bit now that I am sure of the motor I can hunt for the couple missing pieces and wait for a deal or two.
Now the target is the last week of September for the VYR.
Since this had been a sub-topic of this other bike discussion.... here's the total so far:
Purchase Price $600 CASH
Complete Carb Kits $160 ($40 x4)
Front Forks & Fender Brace $110 (Evil-Bay)
New Fuel Hoses & Misc $30 (AutoZone)
Clutch Slave Rebuild Kit $20 (had it on the shelf didn't use with FZR)
Tank Cleaning Chemicals $30 (had these also but to be honest must include)
TOTAL Spent (not invested SPENT!) $950
Note: For the sake of COMPLETE $$ honesty, the PO provided some items we typically need to replace as part of the purchase price of the bike:
New Maintenance Free Battery Installed: ~$100 +/-
New OEM Brake Master: ~$130 +/-
Used Great Condition Clutch Master: ~$40 +/- (Evil-Bay)
New Gas Cap (Chinese Re-Pop): ~$20 +/-
New Set of NGK Plugs: ~$10 +/-
New OEM Oil Filter: ~$15 (not yet put into service)
New OEM Fuel Pump: ~$75 +/- (this year bike doesn't use an electric pump the newer FJ1200s do.... Guess this will help a friend out)
SO, the PO provided ~$390 dollars worth of parts effectively decreasing the purchase price down to ~$210.00
THAT'S A DEAL IN MY WORLD!!!
Might make up for one or two of the times I took it in the back side!
BUT, here's what it needs THAT I KNOW OF:
Pair of TIRES $250 (Pirelli Preferred, current look good but are mis-matched)
New Stainless Brake Lines $175
Brake Caliper Rebuild Kits $60 (Evil-Bay)
Front Fender $100 (Evil-bay Planned VERY HARD TO FIND)
Lower Spoiler $180 (Fiberglass re-pop - Used ABS are junk)
Paint & Body Supplies $50
Misc. Unforseen Expenses $250 (A Budgetary Figure)
SO, I will spend $2000 on this bike before it is safe and reliable to ride.
The target now is the last week of September (VYR).
I don't want this to perform or look like a $600 bike at the Rally!!
THOUGHTS?
Sincerely,