There's been several threads/posts about engine stands, with a bunch of different solutions. Ranging from scratch-built units to adaptations of automotive stands.... well, here's another one!
I orginally saw this stand built by Motoman out of a 'spare' frame using an automotive stand and liked the idea...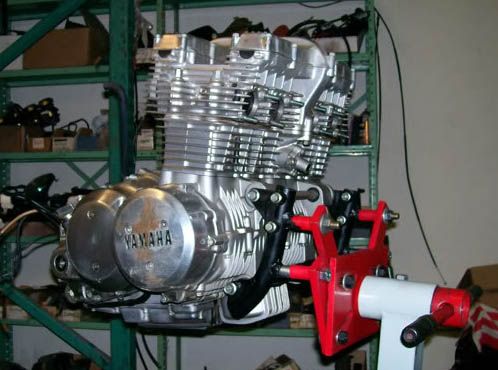 ... but because almost all of the motor is above the pivot point, trying to rotate this will be a real chore, and I'm not so sure it wouldn't tip over if you tried. The problem is most automotive stands won't 'adjust in' far enough to get the motor any lower, getting the weight 'center' near the pivot; the adjusting ears are generally too long.
The 'smallest' this one would adjust to was 11.25" across, a spot too wide. Well, I had a spare stand 'head', so I shortened the ears by 1.25" and got it to fit much better....
.... but I suspect the stand may be ruined for automotive use now. And you still need a frame to cut up, plus the upper motor mounts; not everybody is going to have that laying around. I also didn't like having all the frame tubing and mounts in the way, makes cleaning/painting a bit harder. So I gave it a rethink, and came up with this....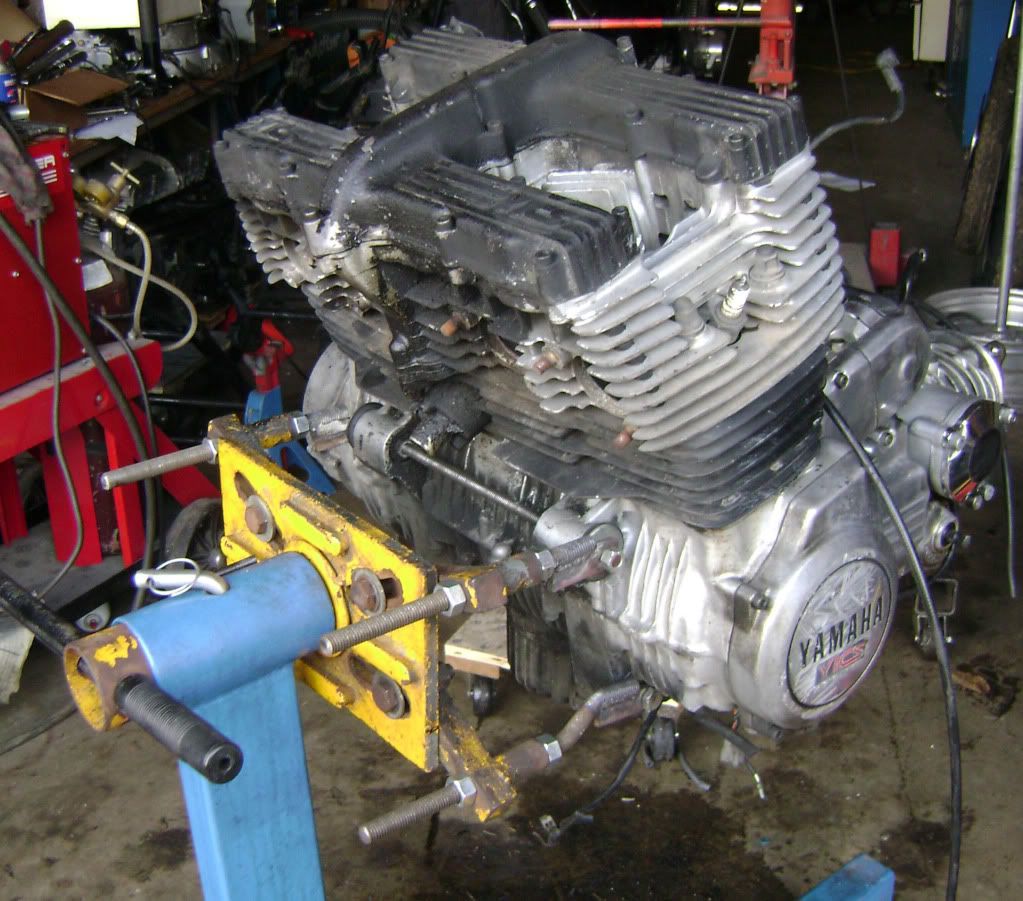 Cheap and easy to build, and now the front of the motor is open. Here's how to build it...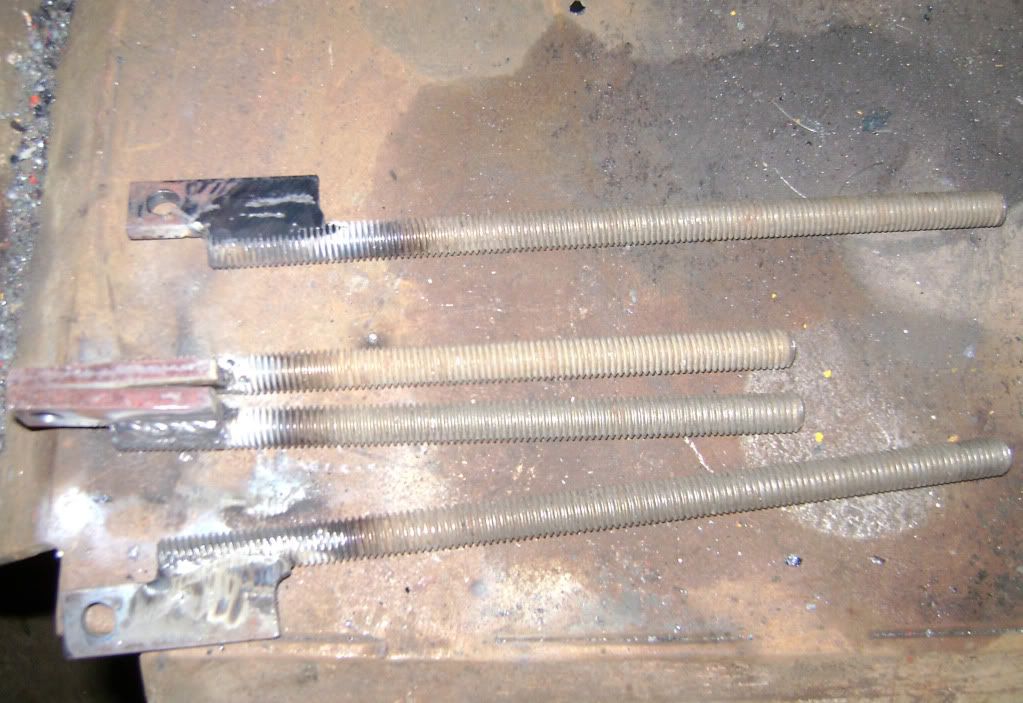 Cut four pieces of 1/2" threaded rod, two 8", two 10". These will be long, but will allow adjustment in fitting; you can cut the extra off of the finished stand. Don't use smaller rod; the 1/2" is stiff enough. I welded four 3/4" wide, 1/4" thick, 2.5" long tabs onto the ends (mostly I used this size because I had some; 1" or 1.25" would work too), and be sure to check 'handedness' so they fit right. The holes are 3/8". You'll need to bend 'offset' bends in the two longer ones...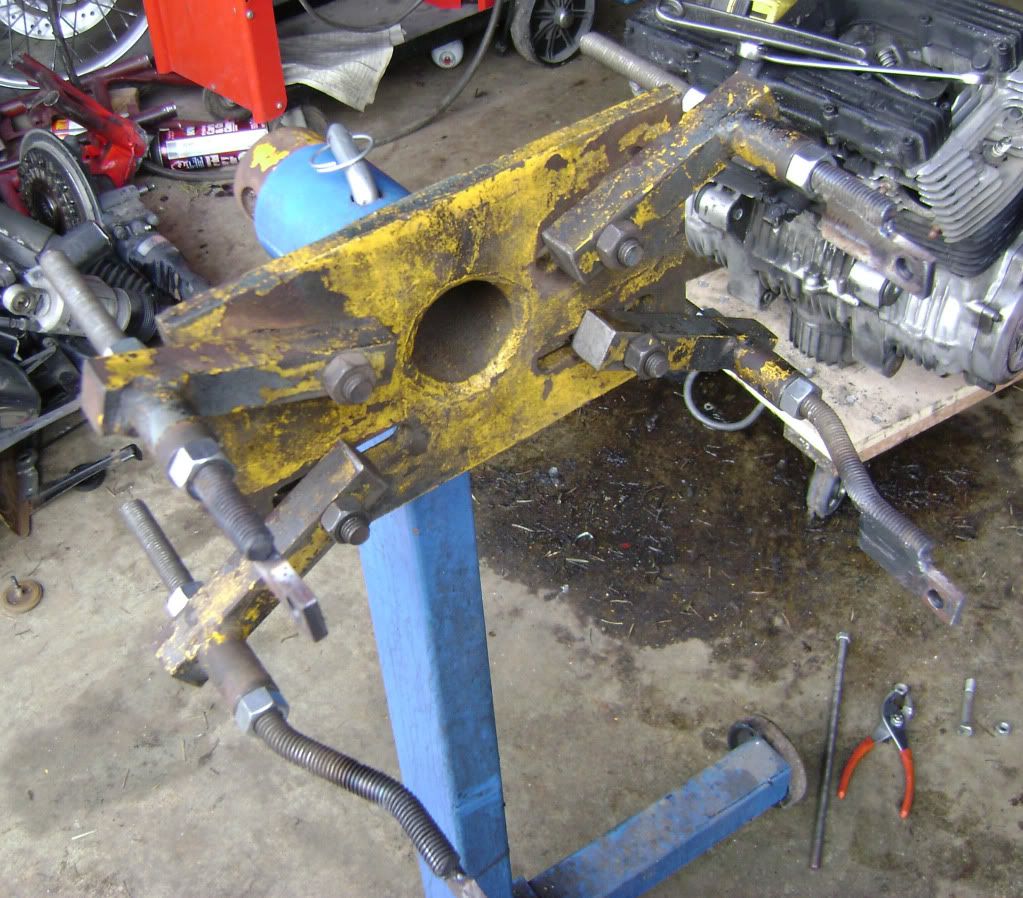 ... as seen here; I did about a 3/4" offset. You may need more or less depending on your stand, you might have to offset all of them but I doubt it. The biggest pain will be 'fitting' the stand together, I'd suggest doing that on the motor to get it close and then removing it to 'fine tune' it. The upper tabs should be 10.625" inside-to-inside, the lower ones 9.5". To attach the stand to the motor, you'll need two 3/8" x 3" bolts, a piece of 3/8" threaded rod 12.25" long, and four 3/8" nuts. You'll also need eight 1/2" nuts to attach this to the stand. Two 3' pieces of threaded rod (both sizes, enough to do this) should be under $10, in fact all materials shouldn't be too much more than that. These engine stands can be bought new for under $50, but check CL for used ones; I've seen them as low as $10 used. Install the motor on the stand...
... and you can adjust the 1/2" nuts to get the motor level front-to-back.
Don't have a welder? As an alternative, you can use 'strut L's (McMaster-Carr part #s 33125T32 [two hole] or 33125T34 [four hole], you should be able to find these locally) and bolt this together. You may need to grind the ends of the 'L's for clearance at the motor. You could even make your own out of angle iron, lot's of options...